Continuing Education is Essential
The one constant in the fields of SEO and Digital Marketing is that everything is constantly changing.
This was quite true when I first wrote this in 2015.  However, as we head into 2019 it is even more of a reality today. In fact, right now we are seeing some of the biggest changes that have taken place in a long time.
WordPress is a perfect example.
It will not be long before Gutenberg becomes the core builder in WordPress and replaces the "Classic Editor". I believe it is a good move to upgrade to a higher level builder.  However, as with all significant technology changes, there will likely be more than a just few hurdles to get over. WordPress is my preferred platform to work on so these changes directly affect me, so it's important to keep up with the changes.
Then there are the ongoing updates with Google which can be a challenge to keep up with. Not just search engine changes, but also Google Analytics, The Search Console, AdWords etc. And then the tools we use to audit and measure the results of SEO campaigns.
It takes focus to be sure, and the day to day hands-on experience you gain from each project is invaluable.  However,  I think it is an important responsibility to study on an ongoing basis. I probably use about 15% of my work time learning in some form. I very much consider this part of my job.
As I talk about on My Resources Page there are a lot of very good SEO and Web trade publications as well as well as a host of well-informed Blogs and Authority sites. These are great for keeping up with trends in the different areas of SEO, web design technology and news on new tools that might be useful.
There is no Replacement for Formal Training
Even though an awful lot can be learned from keeping up with the higher quality Blogs and Trades, I believe there is a place for formal training. Generally, this training is very structured, with a clear beginning and an end.  Each class or training program is focused on a single topic and they can be more than just a challenge.  The proctored classes can be just plain hard.  Below you can find each of my certifications along with a short explanation of what the course entailed.
These Certifications are a Testament to My Commitment.
SEO Certifications.org was one of the original industry certifying bodies. This course was very comprehensive and gave me a good SEO foundation. Unfortunately,  they were much better at instructing than they were at running their business. I believe they went out of business in late 2016.
---
Market Motive, now known as Simplilearn is an Industry Leader when it comes to training. They develop the curriculums for institutions such as Rutgers University and Duke University just to name a couple. These are high-level college courses taught by experts in the field. All their courses meet or exceed the preparatory expectations of the industry's most respected professional organization, the OCMP (Online Marketing Certified Professional ). I'm proud of these certifications, these are very challenging courses. In other words, they don't just hand these certifications out, they have to be earned!
---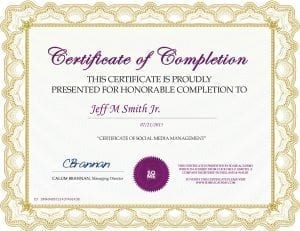 This training was with So Me Academy in Wales.  This was a Social Media Managment course.  This was a good class.  Maybe not to the level of some of my training but I came away with a good understanding of the skill needed for social media management.
---
This was a good entry level email marketing class.  Covered the basics of email automation as well some of the standard types of email campaigns that can be run. It also gave a great detailed overview of Getresponse itself.  For a lower cost email platform, it is my first choice.
---
This one I had to really work for.  This is Digital Marketers highest level email marketing course.  This is an in-depth study of all aspects of email marketing. It is an excellent course.  It was expensive and it was hard but well worth having.
---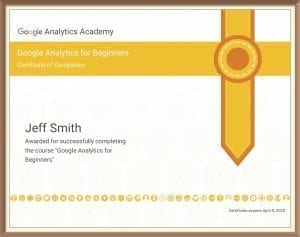 This one does not need a lot of explaining.  The beginner Google analytics class.  It was a good overview of the platform, where to find things, how to use some of the more basic functions of GA.  Honestly, I knew a lot of it already.  However, I did pick up a few new insights.
---
The Advanced Google analytics course is very challenging.  even for someone that spends a lot of time in Ga, I still found it difficult.  This course is very in depth and goes through Google analytics and the use in great detail.  It was well worth the time as it is a valuable skill.
---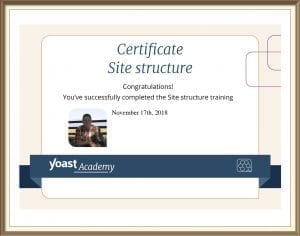 Presented by Yoast, the maker of the most installed (and the best) SEO plugin available. This is a tool I use, and one that I recommend to all my clients.  Though Yoast is not formally an education institution, they are all about SEO.  And this Site Structure course was excellent.  For the cost, it was a great value and a good learning experience.
---
This training along with my years of SEO experience has helped me greatly in doing the best job for my clients that I possibly can.  For more information on my the services I provide, please visit My Services Page. If you would like to contact me you can do so here.